Cleaning one's house or property is determined by preferences and lifestyle. The frequency of cleaning is affected by several factors. It includes the size of your property, the number of occupants, and your particular cleaning preferences. Some people prefer to clean a little every day, but others prefer to clean thoroughly once a week or once a month. It's helpful to determine the scope of the cleaning ranging from small to large. This way, cleaning the home is made doable throughout the year. The idea is to develop a cleaning schedule that works for you and to keep your home clean and organized.

In this Blog, Happy Housekeepers provides a cleaning regimen in four parts: Daily cleaning, Weekly cleaning, Monthly cleaning, and Seasonal cleaning. Here are the guidelines for performing a thorough deep cleaning.
Certain duties should be completed on a daily basis in order to keep your home clean and orderly. Making the bed, cleaning the dishes, wiping down the kitchen floor and counters, and sweeping or vacuuming high-traffic areas are examples of these duties. Instead of letting things pile up, try to clean up as you go. This helps to prevent tasks from becoming overwhelming later on.
Daily cleaning duties are essential for keeping a clean and orderly home. Here are some daily cleaning tasks to help keep your home tidy:
Make your bed every morning:
Making your bed every morning will help your bedroom look neater and more orderly.
Wipe off kitchen counters:
Wipe down the kitchen sink and counters after cooking meals or snacks to keep them clean and free of crumbs.
Do the dishes:
After each meal or snack, wash or load the dishwasher to keep them from stacking up.
Sweep or vacuum high-traffic areas:
Areas with frequent traffic, such as the entryway, living room, and kitchen floor, can quickly acquire dirt and trash. To keep these places clean, sweep or vacuum them on a daily basis.
You can set aside a specified period of time each day to work on cleaning projects, such as just after breakfast or before supper. Keep in mind that following a plan that works for you and being consistent with your cleaning habits are the keys to maintaining a clean home.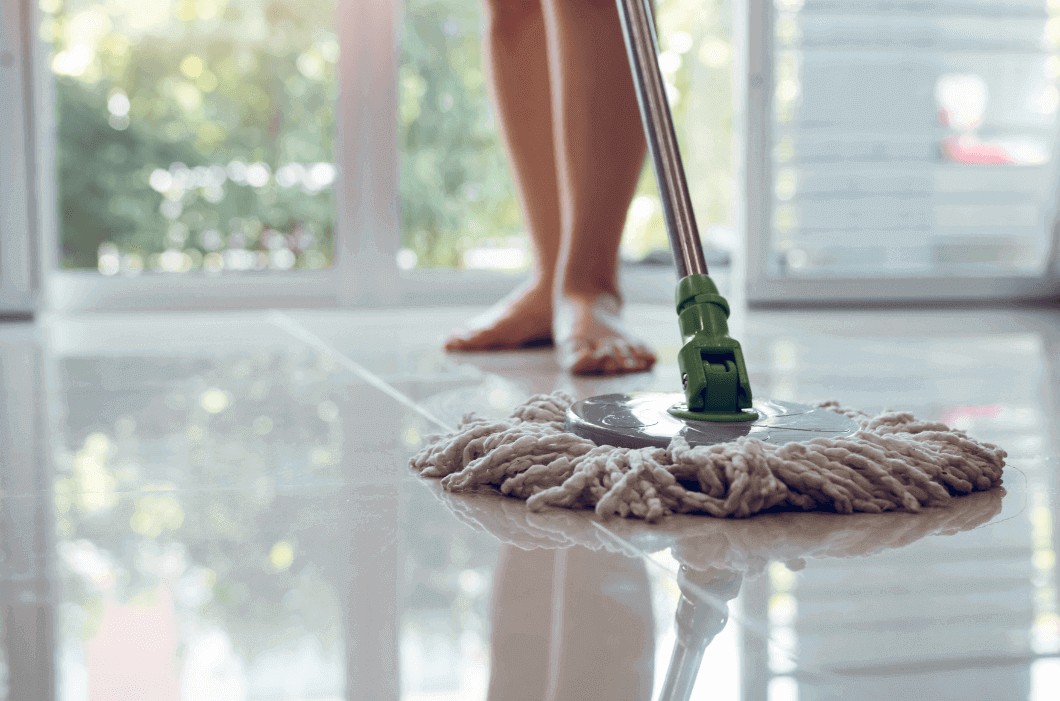 More comprehensive cleaning duties, such as dusting surfaces, mopping floors, cleaning bathrooms, and washing bed linens and bath towels, should be completed on a weekly basis.
Weekly cleaning duties are essential for keeping your home clean and smelling fresh. Here are some weekly cleaning duties to keep your home clean and organized:
Dust surfaces:
Use a microfiber cloth or a duster to dust surfaces such as shelves kitchen counters, tables, and picture frames.
Polish the Floors
Floors should be swept or vacuumed to eliminate dirt, dust, and debris.
Clean bathrooms:
Use a cleaning solution to scrub toilets, sinks, and showers to remove stains and prevent bacteria growth.
Tidy the household linens:
Bed linens and bath towels, should be washed as often should you clean them to keep them fresh and clean.
Clean kitchen appliances:
Use a cleaning solution to remove spills and stains from the refrigerator, stove, and microwave.
Organize your closets and drawers:
Every week, spend a few minutes organizing your closets and drawers. Donate old or unwanted clothes and organize your belongings by category.
Keep up with the laundry:
Make it a part of your weekly habit to do a load. You may prevent later having a big pile of dirty clothes to deal with by keeping up with the laundry.
Some jobs, such as cleaning windows, vacuuming upholstery, and deep cleaning carpets, can be completed on a monthly basis.
1. Clean the windows
Clean the interior and outside of your windows to get rid of dirt and grime.
2. Deep clean carpets and rugs:
Thoroughly vacuum carpets and rugs before using a carpet cleaner to remove deep stains and grime.
3. Dust blinds and curtains:
To remove dust from blinds and curtains, use a microfiber cloth or a duster.
4. Clean appliances:
To remove filth and debris, clean equipment such as the dishwasher, washing machine, and dryer.
Dust and clean light fixtures
Light fixtures should be dusted and cleaned with a microfiber cloth or a duster. This includes chandeliers, lamps, and ceiling lights. Use this chance to clean lamp shades and light bulbs as well.
Clean baseboards:
Baseboards should be cleaned by using a damp cloth or a moist towel to wipe them down or a vacuum attachment to remove dust and grime.
7. Vacuum upholstery:
To remove dirt and debris from furniture and hard floors, use a vacuum cleaner with an upholstery attachment.
By performing these monthly cleaning duties, you can keep your home in good shape and prevent filth and grime from accumulating. Keep in mind to divide these chores into manageable chunks and complete them over the month. Depending on your availability and interests, you can decide to spread out these more intensive cleaning duties over the course of the month, or you can set up a single day or weekend each month.
Certain jobs, such as cleaning gutters in the fall and washing outdoor furniture in the spring, should be done on a seasonal basis.
Spring cleaning
allows you to open windows and let fresh air in while deep cleaning your property. Spring cleaning duties include washing windows, cleaning blinds shower curtains, dusting ceiling fans, and organizing your property.
Summer cleaning:
Washing outdoor furniture, cleaning the grill, and sweeping the patio or deck are all good summer cleaning jobs.
Cleaning gutters, inspecting weather stripping, and sealing windows and doors to avoid drafts are all things you can do in the fall to prepare your home for the colder months.
Winter cleaning:
You can focus on indoor cleaning duties such as deep cleaning carpets, dusting baseboards, and cleaning out the fireplace throughout the winter.
You shouldn't attempt to complete all of these duties at once when performing seasonal cleaning. Create a routine that accommodates your demands as well as the particular requirements of your property for each season. Depending on your schedule, you might decide to tackle bigger work over a period of several days or stretch out seasonal cleaning activities across a few weekends.
You can keep your home tidy and cozy all year long by adhering to these cleaning suggestions for each season.
Bonus Cleaning Regimen: Miscellaneous Cleaning
Cleaning jobs that don't fit into a single daily, weekly, monthly, or seasonal category but are nevertheless crucial for keeping a tidy and organized home are referred to as miscellaneous cleaning tasks. Here are some other cleaning suggestions and jobs you might want to think about:
Clean light switches and doorknobs
Clean doorknobs and light switches because they are often touched surfaces that can harbor dirt and bacteria. Regularly clean light switches, doorknobs, and handles using a disinfectant cleaner or wipes.
Wipe down electronics
Wipe down gadgets: To clean electronics like televisions, computer monitors, and keyboards, use a microfiber cloth to remove dust and fingerprints.
Dust and clean ceiling fans
Dust and clean the surfaces of ceiling fans on a regular basis to stop dust from circulating in the air. This also applies to the blades.
Freshen up mattresses
Clean mattresses by vacuuming them to get rid of dust mites and other debris. For a clean and fresh mattress, sprinkle baking soda on the surface, let it sit for a few hours, and then vacuum it up.
Clean window tracks
Window tracks should be cleaned since they can collect dirt and grime. After removing any debris with a vacuum or brush, clean the surfaces with a moist cloth or sponge.
Wash trash cans
Empty and wash garbage cans frequently to get rid of odors and stop the growth of bacteria. Make use of a disinfecting cleanser or a vinegar and water solution.
Clean blinds and shades
Blinds and shades should be dusted and cleaned with a microfiber cloth. Take them down for a soak or use a light soapy water solution for a deeper clean.
Wipe down and organize kitchen cabinets and drawers
Kitchen cabinets and drawers should be cleaned out and organized. Take everything out of the cabinets and drawers, then wipe the inner surfaces down with a solution of warm soapy water, and a mild detergent. Before putting the goods back, take the chance to organize and tidy them.
Keep in mind that you can complete these jobs on-demand or as part of your regular cleaning schedule. You can keep your living space clean and fragrant by paying attention to these various cleaning duties.
Overall, how often you should clean will depend on individual conditions, and it's a good idea to create a cleaning schedule that works. Depending on the size of the house, the number of occupants, and their habits, different homes require different amounts of deep cleaning. It's crucial to remember that routine cleaning chores like dishwashing, laundry, dusting, and vacuuming need to be done more frequently. High-traffic areas, such as bathrooms, kitchens, and floors, may need deeper cleaning, particularly if residents have allergies or respiratory conditions. Some industry professionals advise deep cleaning beds once a year and carpets every one to two weeks for six months. House generally should be deep cleaned at least once a year.